It's nearly summertime, and you know what that means: time to figure out how to pay for next year's summer vacation!
OK, maybe that's not top of mind, but according to a new NerdWallet survey on summer travel, 26% of 2023 summer travelers will use a credit card to pay for those travel expenses but won't pay the balance off with the first statement. Additionally, nearly 3 in 5 Americans (58%) aren't taking a summer vacation at all, some for financial reasons.
If you want to take a trip next summer without taking on credit card debt, it's a good idea to start planning how you'll pay for it and how to make it less expensive. Here are four steps to make your 2024 summer vacation a debt-free reality.
1. Start saving now
Saving for a vacation takes the pressure off to either come up with the money all at once, take on debt or forgo a trip altogether. Sinking funds — or savings accounts dedicated to a specific goal — are a great way to save for an upcoming vacation.
Estimate your trip's cost, including transportation, lodging, food, entertainment, shopping and other incidentals, and plan to save. That could mean dividing your trip budget by 12 and putting away equal monthly installments or earmarking expected windfalls, like a bonus or tax refund, for your summer trip. You can also focus on ways to lower your summer travel spending so you can save less throughout the year.
2. Consider using points/miles
According to NerdWallet's travel rewards study, travel rewards credit card holders have 55,300 points/miles, on average. If you have rewards banked, consider spending them on next year's summer vacation or even sooner. Over time, the value of these rewards tends to decline.
If you don't have points/miles to spare, you can plan to earn some to cut down on your travel costs. This might mean applying for a new travel rewards credit card with a hefty sign-up bonus or switching your daily spending to a travel rewards card already in your wallet. Assuming a point/mile is worth about 1 cent each and you earn 2 points per dollar spent, monthly credit card spending of $2,000 could net you $480 worth of free travel in one year.
3. Make cuts to other parts of your budget
The summer travel survey found that around 1 in 6 Americans who aren't traveling this summer (16%) say inflation has made their other expenses too expensive, so they can't afford to take a summer vacation. So even as inflation cools down, your budget may be feeling the pinch. But if travel is your priority, reviewing your spending and seeing if you can make cuts to save money for future vacations is a good idea.
4. Travel on a budget
Most 2023 summer travelers (92%) are taking action to save on those travel expenses, like driving instead of flying (35%) or staying with friends or family instead of in a hotel/motel (31%), according to the summer travel survey.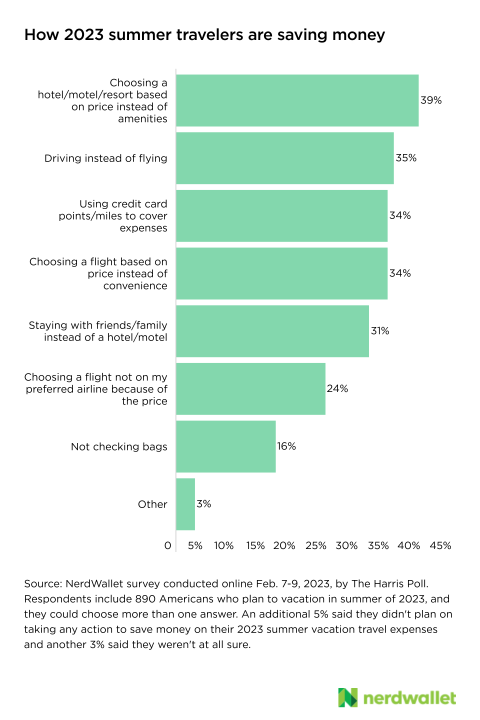 Flexibility is critical if you're looking for ways to make summer travel more affordable. You might find deals by choosing a less popular flight time or traveling at the tail end of the season after the school year begins. Planning your summer trip early may also help you travel on a budget — just another reason to start thinking about 2024 vacations now.