Memorial Day may mark the unofficial beginning of summer in the U.S., but it's the days ahead of it that kick off big airport crowds.
The holiday symbolizes the beginning of the summer vacation season for many Americans. But it's hardly a vacation for airport employees, who typically get pummeled with the largest crowds of the year to date.
Some days around the long weekend are significantly busier than others, and if you can afford to be flexible when flying Memorial Day weekend, you'll save money and avoid chaos.
The best and worst days to fly Memorial Day weekend
NerdWallet analyzed the past two years of Transportation Security Administration checkpoint data for the six days before and six days after Memorial Day, which shows how many passengers were screened at TSA checkpoints.
In 2021 and 2022, the Friday before Memorial Day was the most-crowded day to travel before the holiday, which is observed on the last Monday of May. As far as post-holiday, the Sunday after has attracted the largest crowds over the past two years.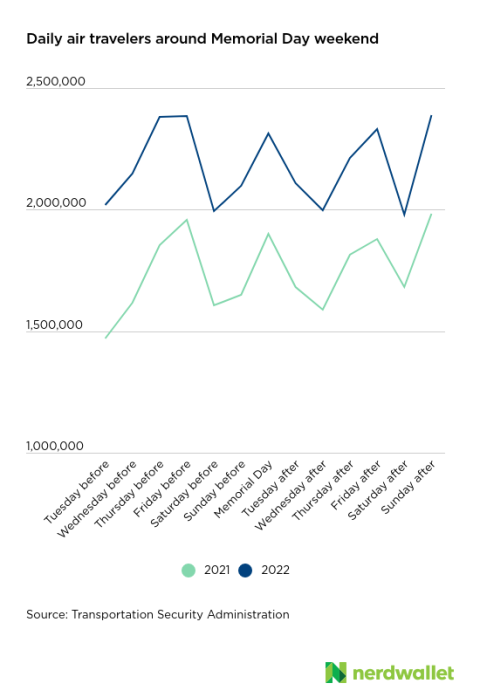 Based on an average of the past two years, here are the most- to least-crowded days for the 13 days surrounding Memorial Day (including the holiday), ranked:
Sunday after Memorial Day (most crowded).
Friday before.
Thursday before.
Friday after.
Memorial Day (Monday).
Thursday after.
Tuesday after.
Wednesday before.
Sunday before.
Saturday after.
Saturday before.
Wednesday after.
Tuesday before (least crowded).
When broken out by pre- and post-Memorial Day travel, here are the three least-crowded days to travel ranked from least to most crowded. These are likely the best days to fly around Memorial Day weekend.
Pre-holiday:
Tuesday before.
Saturday before.
Sunday before.
Post-holiday:
Wednesday after.
Saturday after.
Tuesday after.
Why flying the Friday of Memorial Day weekend isn't ideal
While the Friday before Memorial Day is always a big travel day, it was even bigger before the pandemic. For example, in 2019, the Friday before Memorial Day was the third-busiest day at U.S. airports for the entire year, losing only to the Sunday after Thanksgiving and the Sunday of Fourth of July weekend.
The Friday before Memorial Day has yet to reclaim a spot on the "busiest days to fly" podium since the pandemic (after all, the pandemic upended several travel norms), but it's still noticeably more crowded than other airport visits from January to May. In 2021, the Friday pre-Memorial Day was the busiest day of the first five months of the year. In 2022, it was the second-busiest day in the same period.
Those figures indicate that the long weekend attracts a lot of folks who haven't flexed their travel muscles in a while. Check-in and security lines will likely be longer — and potentially feel longer — if rusty travelers have forgotten, say, that you can't pack a regular-sized jar of peanut butter in a carry-on.
Though flying the Sunday after Memorial Day draws bigger crowds, we can find some solace in the assumption that many of these travelers will be returning home. Perhaps they've already learned (or relearned) airport procedures and etiquette on the trip out.
The smarter, cheaper Memorial Day weekend itinerary
If you work a standard Monday-Friday workweek and have the holiday off, then leaving Friday after work and returning the Sunday after Memorial Day might make sense. This minimizes the number of vacation days you take, and you'd get eight full days of vacation.
But if you follow the classic Friday-Monday weekend travel itinerary, then you'll pay — in terms of literal price and airport crowds. Deviate from that schedule to find lighter crowds and perhaps better Memorial Day flight deals, too. Try these travel days instead:
Travel on Saturday: Rather than rushing out from work Friday afternoon, take that evening to pack, spend Friday night in your own bed and take an early flight out Saturday.
Morning flights are often more reliable than evening flights: Those departing after 9 a.m. are twice as likely to be delayed than departures scheduled between 5 and 8 a.m., according to the Flight Disruption Outlook for Spring 2023 survey by travel booking site Hopper.
Fly home the Wednesday after: A lot of people opt for traveling on Memorial Day itself, and many people fly the day after. But relatively few people extend their trip one more day and fly Wednesday.
If you do, you'll avoid the worst of the airport crowds. You increase your chances of saving money on airfare. Plus, you'll be home in time for a delightful two-day workweek — which might be just enough time to wrap up lingering tasks without getting fresh projects dumped on your desk.
Fly home the Saturday after: You can still have a weeklong vacation and avoid Sunday's crowds by flying home the Saturday after Memorial Day.
Then you'll have a full day at home to knock out laundry and meal prep before the next workweek starts. After all, sometimes the most relaxing way to end a trip is taking a vacation from that vacation.